for Flight Simulator X and FS2004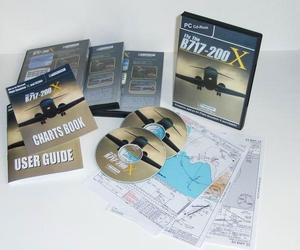 Click here and get the FSX update if you have the FS2004 version!
The Boeing 717-200 is the world's best jetliner specifically designed for the short-haul, high frequency 100-passenger airline market. The twinjet makes effective use of advanced technology to lower operating costs and reduce noise and emissions while providing big jet passenger comfort. Airlines and passengers have told Boeing that they prefer the comfort and convenience of the 717. The airplane's efficiency meets or exceeds all expectations in revenue service.

Videoclip and original soundtrack © Aaron Postle

Product comes now for both FSX and FS2004, so you have an option during the installation process to choice the desired version.
Product Features
Detailed 3d textures

Full moving parts including: Flaps, Rudder, Ailerons, Spoilers, Gear, Passenger Doors, Cargo hatches, Reversers, Virtual Cockpit Controls

Full night lighting inside and out

Strobes and beacons set to Boeing specifications

Fully-featured B717 2D Panel

Full 3D Virtual Cockpit

Very realistic Stereo Sounds

Reflective texture mapping

Checklists

External views includes: Right and Left Side , Landing Gear, Tail, Right and Left Wing
Liveries: House Colour, Hawaiian Air, Qantas Link, Olympic Airways, Bangkok Air, Air Tran, Midwest, Trans World Airways, Spanair, Impulse Airlines, American Airlines, Vuelamex, Turkmenistan Airlines, Aerolineas Baleares, Perfect Flight Colors
Missions / Adventures - Product also includes 25 Missions / Adventures (for both FSX and FS2004 version). Missions gives you more realistic flight experience recreating a real word ambience with Complete Ai/ATC interaction; Speed restriction; Complete Cabin Announcement; gear, flaps, parking brakes, warnings. Check Lists Procedures (pre-start, taxi, before t/o, after t/o, descend, landing, parking) Speeds Call, 80 Knt,V1, Vr, V2, flaps, gear, GPWS, Radar Altimeter, Flight Briefing and more. Missions gives you more realistic flight experience recreating a real word ambience. So, fell free to enable you to test your flying skills with the Boeing 717-200 in different weather condition
Availability:
Download 165 Mb - Be sure to menage large downloads. We do not refund for download problems
---

PC-CD-R BOXED Orders are processend within 48 hours but please allow 1 to 3 week to arrive
Sistem Requirement:
· Flight Simulator X with Service Pack 1 or FS2004
· CD-ROM drive
· 2.0 GHz Processor
· Graphic card with 256 MB RAM
· 1 GB RAM
· 400 MB free disk space
· Soundcard
· Windows XP SP2 or Window Vista